JoncAye Pickleball Paddle Review: Should You Buy It?
Beginner players in pickleball are always looking for budget-friendly pickleball paddles to practice with and elevate their game. JoncAye pickleball paddle is one such paddle that is no less than a top-notch paddle, and you don't even need to break the bank to buy it.
If you head to the market, the plethora of pickleball paddles will leave you bewildered. But don't worry, this JoncAye pickleball paddle review will help you make the right decision about your next pickleball paddle purchase.
In this paddle review, we'll walk you through each of the amazing features of the JoncAye pickleball paddle. We have explored all the features that make this paddle worth your money. Moreover, we have included a few shortcomings of the JoncAye pickleball paddle and genuine user reviews to help you make a wise decision.
That said, let's roll in.
If you buy through our affiliate links, we'll earn a small commission at no extra cost to you. Read more.
Table of Contents
JoncAye Pickleball Paddle Review
JoncAye pickleball paddle is manufactured with high-quality materials with no compromise on the playing experience. This paddle is perfect for players who have just started playing and also for intermediate-level players. But, note that JoncAye paddle isn't USAPA approved, so you won't be able to play with it in tournaments.
Being light in weight, this paddle is suitable for players who easily get muscle strain and fatigue.
JoncAye pickleball paddle is constructed with a honeycomb core that lets you strike each ball with optimum power and balance. Also, the honeycomb core helps absorb sound and vibration, letting you enjoy a noise-free game.
The handle is designed with a comfortable, sweat-absorbing material that doesn't let the paddle slip out of hand while hitting. Moreover, the top-quality material and premium edge guard make the JoncAye pickleball paddle much more durable than other paddles.
We believe the best thing about the JoncAye pickleball paddle is that it comes in an accessory set with other cool pickleball equipment.
The fact that all these amazing features are offered at an incredibly affordable price makes this pickleball paddle very popular among players.
However, one user complained that JoncAye's pickleball paddle lacked a textured surface, which made it difficult to spin the ball while keeping it in control.
Notable Features Of JoncAye Pickleball Paddle
JoncAye pickleball paddle has amazing features that make it popular among all levels of players, especially beginners. Let's dive into the details of these features.
Polymer Honeycomb Core
JoncAye pickleball paddle is constructed with a polymer honeycomb core, which lends an excellent feel to each hit. Moreover, the honeycomb core effectively dampens sound so that you enjoy a quiet game without disturbing other people.
Face Shape and Size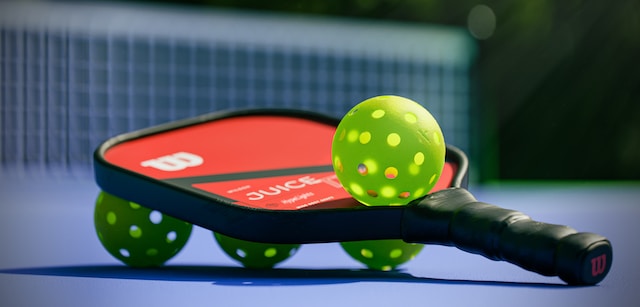 JoncAye pickleball paddle features a standard size of 15 1/2″ length and 8 1/8″ in width. This means it has a wide face with ample sweet spot that extends your reach and minimizes your chances of missing shots. Players who struggle with mishits should definitely consider this paddle.
Graphite Face
JoncAye pickleball paddle has a face made of premium graphite carbon fiber. This makes the paddle strong and tough, giving a pop on each hit. In addition, the graphite face provides optimum control over the ball. However, one player felt that the non-textured graphite face made it difficult to keep the ball under control
Lightweight
JoncAye pickleball paddle weighs around 8 oz and is considered a lightweight paddle. This is an optimum weight that lets you strike each shot with a perfect balance of power and control.
Being a lightweight paddle, it doesn't put much stress on the shoulder and arm, letting you play tirelessly for long intervals. This feature makes the JoncAye pickleball paddle particularly beginner-friendly. Also, players looking for more maneuverability should look into this paddle.
Comfortable Grip Control
One of the best features of the JoncAye pickleball paddle is its extremely comfortable cushion grip. It is a perforated hand grip with sweat absorbing technology. This ensures that the pickleball paddle stays firm in hand and doesn't slip with powerful hits.
Moreover, the grip size measures 4.25″ in circumference, which is in accordance with USAPA guidelines. Overall, the grip offers good maneuverability of the paddle and is suitable for all levels of players. In addition, the paddle comes with 4 extra vibrant grip tapes that serve as replacement in case of wear and tear.
Premium Edge guard
JoncAye pickleball paddle comes with a protective edge guard. This ensures that the paddle remains protected and increases its overall durability. This feature is great for players who tend to accidentally hit the paddle against the ground while striking the ball.
However, one player complained of breakage of the paddle soon after purchase. He was promptly offered a replacement and was greatly satisfied with the customer care service.
Accessory Set
One of the best things about purchasing a JoncAye pickleball paddle is that it comes with a full accessory set. This includes two pickleball paddles, 4 balls, four grip tapes one mesh ball that has the capacity to hold six balls. Moreover, all this equipment comes packed in an amazing carrying case that's big enough to hold all your game essentials.
Not USAPA Approved
Though the manufacturer claims that this paddle is according to USAPA standards, it hasn't been officially approved by USAPA itself. Therefore, you cannot use it for official tournaments.
About JoncAye
JoncAye is one of the top pickleball manufacturing companies. They take pride in making products that are made with high-grade material and available at reasonable rates. Their ultimate aim is to promote pickleball by providing inexpensive paddles with no compromise on quality.
If you're wondering why investing in a good Pickleball paddle is worth it, see our guide on "Do Pickleball paddles matter?"
Who Is JoncAye Pickleball Paddle For?
JoncAye pickleball paddle is perfectly suitable for beginner to intermediate-level players. Moreover, since it is a light paddle, it doesn't cause muscle strain on the shoulder and arm. This makes it a perfect paddle for senior players and those who frequently suffer from tennis elbow and muscle injuries.
User Reviews
After going through numerous user reviews, we can confidently say that the JoncAye pickleball paddle is a hit among players. Players love this high-quality paddle with its amazing features like comfortable grip, light weight, and remarkable feel. All these great features offered at a reasonable cost make this paddle all the more likable.
However, one player complained that the paddle face was not textured, which made it difficult to control the ball. Also, one user felt that the quality of the paddle could be further improved.
What Do We Think Of JoncAye Pickleball Paddle?
To sum up, here's what we think of JoncAye's pickleball paddle:
JoncAye pickleball paddle is a great choice for beginner players who want to practice and improve their game. It has all the features of a top-tier paddle at an affordable price. The durable nature of the JoncAye paddle will make sure it stays with you for a long time. In short, the JoncAye pickleball paddle offers the best value for money.