Best Hudef Pickleball Paddles Review | 2023

Are you thinking of buying a Hudef pickleball paddle, but not sure which one to choose? It can be a daunting task to pick a paddle that could help you improve and suits your needs. If that is the case with you, let us help you.
Hudef is a well-known name in the pickleball paddle industry, and with good reason. We review the 6 best Hudef pickleball paddles with variations in price, size, style, materials, and experience level. We hope this Hudef pickleball paddle review can help you decide.
Let's dive deep to know which Hudef pickleball paddle is for you.
Table of Contents
Best 6 Hudef Pickleball Paddles: Reviews
It's a great experience using the Hudef paddle and winning matches. All the Hudef paddles give an amazing feel and comfort, but the following 6 are the ones we liked the most. Read on to get an in-depth Hudef pickleball paddle review.
Let us share some specifics of these paddles with you to take your pick.
1. Hudef HB2.0 Elongated Pickleball Paddle
Hudef HB2.0 is a fine and quite popular pickleball paddle. It is a good choice at a reasonable price for beginners and those coming from other sports like tennis. We have seen its elongated face helping the converted players hit the balls they could have missed otherwise.
It has a graphite face and polypropylene honeycomb core. Graphite makes this paddle very durable despite continuous hits. You will not see any dents on the paddle face. It also gives your paddle the ability to hold the ball long enough for you to control the ball.
The polypropylene honeycomb core keeps the vibration at a minimum, which helps a lot if you have any medical issues like tennis elbow or wrist problems. Also, it keeps the volume down and makes it quieter.
Knowing that a good grip is a must to keep the hand comfortable, they use the newest double buffering technology for extra cushioning with small holes to absorb the sweat.
The edge guard protects the paddle from any harsh treatment or ground hits while playing.
With its 7.9 oz weight, 5 inches handle, and 17.3 inches length, you get a lighter and elongated paddle. It is great for professionals and provides you with extra reach and spin, helping you not to miss a dink, volley, or groundstrokes. You can get it in four beautiful colors.
Pros
Very good for beginners to intermediate
It's a quiet paddle
Hudef HB2.0 provides a good spin
It comes with a warranty.
It has a good blend of power and control.
It's a lightweight paddle.
Cons
Not suitable for players looking for weight and power.
It has a relatively thin core.
2. Hudef HD 3 (FAD) Pickleball Paddle Review
Hudef HD 3 is an amazing paddle for intermediate to professional players. Its perfect design provide an excellent blend of power, control, and spin.
Note that the Hudef HD 3 has replaced the FAD pickleball paddle.
Hudef HD 3 comes in two weight options: 7.5-7.9 oz weight and mid-weight 8.0-8.5 oz. Both are perfect for intermediate and pro players, depending on their choice.
The paddle weight is slightly distributed towards the handle more than the face. This feature balances the paddle weight and provides easy maneuverability and blocking.
Hudef HD 3 pickleball paddle has a honeycomb composite polymer core and carbon fiber face, making it a soft yet strong and highly durable paddle. Players can get control over the ball and deliver power hits.
It has a standard grip and handle size, ideal for most people. But if you need paddles for small hands, you can check out our list of pickleball paddles with small grip.
And to top it off, a well-designed perforated grip is used. It prevents any discomfort and slipping of the paddle.

In short, if you are more focused on the bigger sweet spot, Hudef HD 3's wide shape and minimum edge guard provide it.
Pros
It uses high-density shock absorbent technology.
Carbon fiber face.
It is a quiet paddle for sound-restricted ideas.
Suitable for single and double players.
USAPA approved
Cons
Some players don't find it very durable.
3. Hudef HD 4 Pickleball Paddle
Hudef HD 4 was launched in 2021 and quickly became a hit. Equipped with the latest technology, the best part about Hudef HD 4 pickleball paddle is its multiple versions in size, shape, and weight.
The Hudef HD 4 comes in 5 different variations: HD 4.0, 4.1, 4.2, 4.3, and 4.5.
Thanks to these variations, you can get long, short, wide, and narrow shapes with a bigger sweet spot and protected edge guard. The longest handle you get is 6 inches.
Hudef HD 4 paddles have a polypropylene core with an improved internal structure. That gives it a soft feel and reduces the vibration for players with tennis elbows.
Unique and new Graphite and fiber composite surfaces are used in these paddles. You can even feel the roughness and grit on the surface. This surface makes it easy for the players to spin and control the ball.
It's no secret that edge guards are the best way to protect the paddle's structure and keep the layers connected. Hudef HD 4 paddles use an edge guard that doesn't affect the weight distribution much.
The grip is moisture absorbing and extra soft to provide maximum comfort and a solid grip, preventing any paddle slipping. Hudef HD 4 is approved by USAPA. This means it follows all the standards and could be used in tournaments.
Pros
Comes in different shapes
It is long-lasting and durable.
Quiet paddle
A good option for intermediate to pro players
It has a lot of pop and feel.
Cons
It is an expensive paddle.
Less power near the edges
4. Hudef HD 5 pickleball Paddle
Hudef HD5 pickleball is of beautiful ivy green color, which symbolizes hope and determination. The paddle was launched to motivate the players during a pandemic.
It is a thick paddle, very sturdy and strong, and of standard shape. The 16.08″ long and 7.90″ wide paddle provides a lot of hitting surface and a big sweet spot, making it a perfect choice for beginners and advanced players. Its honeycomb composite polymer core provides power and flexibility and makes it durable.
Again like most Hudef paddles, you will get lightweight and mid-weight paddle option, according to your preference. The Hudef HD 5 has 4.8 inches long handle with a soft and cushioned grip for comfort and solid control on the paddle.
Its edge guard is also very colorful with the name and logo. It protects the paddle from any accidental crash and scratch from the floor.
Hudef HD 5 is a lot similar to Hudef HD 4 in its structure and design, as they both are the most advanced and new paddles by Hudef. It is a great paddle to have, and you should try it out.
Pros
It has a thick frame.
It has a big sweet spot.
Ideal for both beginners and professional players.
USAPA approved
Cons
Edge guard can cause miss-hits.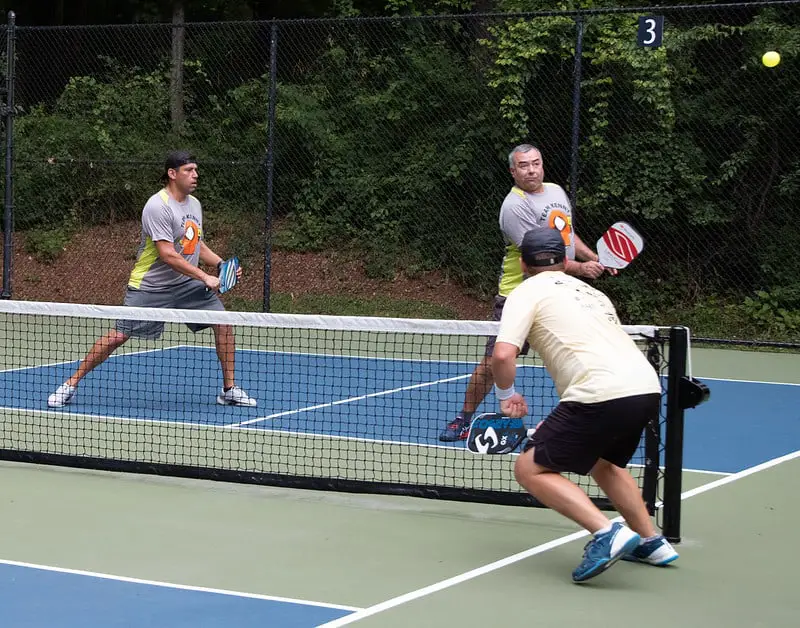 5. Hudef Shield Pickleball Paddle
Hudef Shield pickleball paddle represents the SHIELD used by thousands of great soldiers for centuries and protected them. This is a paddle that provides great defense, control, and power to move forward and strike.
It is an amazing lightweight paddle (weighs 7.6-7.9 oz) with the qualities of Ping-Pong and tennis combined with fiber layers to provide power and touch.
They used a softer polypropylene honeycomb core that provides great precision and strength. A high-strength graphite face is added to make it stronger, durable, and quieter.
Hudef uses a unique printing technology that makes the paddle good-looking and turns it into a soft, spinning paddle. Its weight ranges from 7.5 to 7.9 oz, making it a lightweight paddle with high quality 4.72 inches cushioned and perforated grip.
In short, Hudef Shield is an amazing pickleball paddle with a big sweet spot and protective edge guard that makes it ideal for beginner to professional players.
Pros
Great paddle for blocking
It is USAPA approved, so you can use it in tournaments
A quiet paddle for noise-controlled societies
Edge guard protects the paddle
Cons
• It is an expensive paddle.
6. Hudef Hammer Pickleball Paddle
Hudef Hammer paddle is a paddle for intermediate to advanced players. As the name suggests, it is for players who like to add power to their shots. It is a midweight paddle (average of 7.9 oz) that makes it easy to maneuver and provides speed.
With an elongated paddle and a 4 inches small handle, it's loved by players who support their paddle with the index finger for more control and power. It helps them hit the shots they usually miss due to limited reach.
Hudef Hammer uses a new double buffering technology in its grip for extra cushion and sweat absorption. It allows you to play in any weather without the fear of rain or sweat, as the solid grip will prevent any slipping and discomfort.
Polypropylene honeycomb core, with shock-absorbent technology, is designed to provide maximum comfort to the player, mainly if they have any medical issues. This technology also makes the paddle soft enough to absorb the sound.
Composite face makes it durable to provide you with more control and power. The unique 3D printing reduces the sound and enhances the spin.
Pros
It provides more reach and a big sweet spot.
It has a beautiful printing design and vibrant colors.
Perfect for a consistent dink game.
It is not an expensive paddle.
Protective edge guard.
Cons
Few players find it lacking in control.
Doesn't have weight variations
About Hudef
Though Hudef is not as well-known as other brands, it is still a reliable company that manufactures high-quality paddles. Their paddles are used by pros and have even won tournaments. For example, the winners of the 2019 USAPA Heritage Triple Crown Winner, 2019 National Pro Singles Bronze Medalist, and 2019 Chicago Open Champion played with Hudef pickleball paddles.
Hudef is a Seattle-based company. The name Hudef came from the strong, brave warrior in the East. They have come up with a number of new technologies like spin surface and multi-layer vinyl surface.

The best thing about Hudef is they believed in players and wanted to provide them with high-quality paddles, and that is why you will see their motto written on their paddles;
"We show our respect for players by making the best paddle."
Buying Guide
When buying Hudef pickleball paddles, it will be helpful if you follow this guide to know what to look for.
Core
Almost all Hudef paddles are made with Polypropylene honeycomb core. It makes the paddle lightweight and long-lasting. Most importantly, the soft core makes the paddle quiet and absorbs the vibration.
Surface
The surface of the Hudef paddles is usually made of graphite. Few paddles do come with a composite face. What is common in the face of a paddle is its ability to rotate and spin the ball and provide you with power, control, and balance.
Grip
Double buffering technology is used in the grip. It is a moisture absorbing and comforting grip that keeps your hands dry and provides you comfort for long matches. Most of the Hudef grips are small; however, there are plenty of options for paddle lengths.
Edge guard
Many players prefer to use paddles with edge guards. A good edge guard keeps your paddle and its internal structure safe. While playing, when you try to lift a ball, it often scratches on the floor or sometimes slips from your hand. In both cases, an edge guard is there to protect the paddle. All Hudef paddles come with an edge guard.
Price
When you decide to pick a paddle, you might have a budget and need to find a paddle within that budget. If that is the case, Hudef offers many variations in prices. You can get expensive paddles and cheaper ones. The best thing about it is they all are good quality paddles and offer value for your money.
The Bottom Line
Whatever paddle you decide to buy from Hudef, you will get great features with a quality product. These are the paddles that many players have been using and enjoying as they learn and grow and win matches.
Thanks to the variation in price from $50 to $150, everyone can afford a Hudef paddle. And Hudef does have paddles for all-level players. As the aim to spread hope and respect the players, they are so focused on quality and modern technology.
We hope this Hudef pickleball paddle review can help you get the paddle.