Are Aluminum Pickleball Paddles Good?
Choosing a new pickleball paddle can be tough as you have to consider various factors like paddle weight, size, handle length and face material. However, the most important factor that you need to consider when choosing a pickleball paddle is the core material.
Pickleball paddles come in a variety of core materials, of which aluminum is quite popular. Aluminum-cored pickleball paddles have many benefits that help you master your game. This guide will explore the pros and cons of aluminum paddles and help you decide if you should consider an aluminum pickleball paddle. With that said, let's roll in.
Table of Contents
Pros of Aluminum Pickleball Paddles
Playing with an aluminum pickleball paddle has its own set of advantages and can give you significant leverage over your opponent. Let's dive into the features of aluminum paddles that can help you ace your game.
Good Control
When talking of control and finesse, aluminum paddles top the list of pickleball paddles. In fact, aluminum pickleball paddles are titled as finesse core paddles. The better control and maneuverability of an aluminum paddle is generated by the weight distribution in the paddle.
Aluminum paddles have a lightweight core, which makes the handle feel heavy. This shift in weight greatly enhances the swing as the player goes for dinks and cross-court dinks. Moreover, the improved control and maneuverability let you return each shot with a bang without missing any hit.
Lightweight
Apart from providing optimum control, the lightweight nature of an aluminum pickleball paddle is great for players who suffer from joint immobility problems like arthritis or muscle injuries like tennis elbow. With lightweight aluminum paddles, such players are able to easily hit shots without exerting stress on their muscles. However, the lightweight nature of the aluminum paddle does compromise its power.
Durable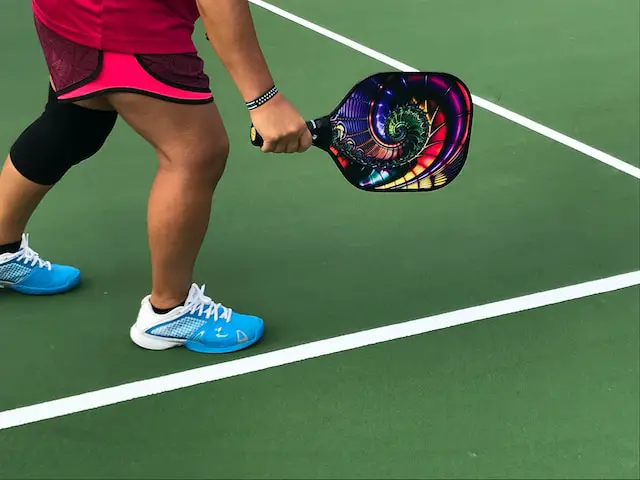 If you are the kind of player who prefers a paddle that goes a long way, then the aluminum pickleball paddle is the right choice for you. This is because they are very durable and do not dent and scratch easily. Reckless players who prefer an aggressive style of play should consider aluminum paddles as their next choice.
Quiet Paddles
Aluminum pickleball paddles are not as noisy as some other paddles, like wooden pickleball paddles. Therefore, you can play using an aluminum paddle in an area with noise restriction.
Remarkable Touch
Aluminum core pickleball paddles offer an outstanding touch. This is imparted by the soft nature of the aluminum core. Having a good touch allows the ball to pop off the paddle slowly, allowing ample time for the player to manipulate the ball. This further improves the maneuverability of the paddle.
Pickleball is an outdoor game and paddles are always exposed to atmospheric conditions like hot weather and humidity. Paddle cores are especially vulnerable to heat damage and can soften and delaminate under extreme heat. However, with an aluminum core paddle, you don't need to worry as it is heat-resistant. This means your paddle will serve you a long time before giving in to heat-induced damage.
Heat-Resistant
Cons of Aluminum Paddles
Despite all the advantages that an aluminum core offers to a pickleball paddle, there are a few drawbacks to an aluminum core pickleball paddle.
Less Power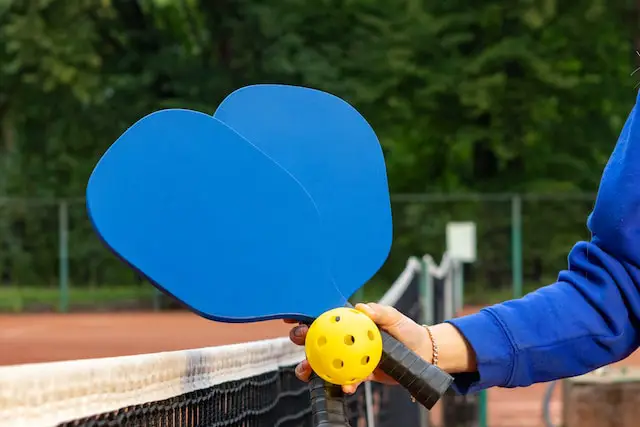 The most serious downside of playing with an aluminum-core pickleball paddle is the reduced power. While on the one hand, the lightweight nature of the aluminum core provides great control, but on the other hand it significantly sacrifices the power of the paddle. This means the paddle does not generate enough power, and you have to make an extra effort to hit powerful shots.
Expensive
Aluminum is an expensive material, which makes aluminum core pickleball paddles slightly hefty on the pocket. However, they are still not as expensive as composite or Nomex cored paddles. They are available in the price range of $100 to $200.
Check out our article on 7 best budget pickleball paddles under $75.
Who Should Use the Aluminum Pickleball Paddle?
The aluminum core of a pickleball paddle gives it properties like lightweight, better control, durability and heat resistance. These features make it suitable for certain types of players. The lightweight nature makes aluminum paddles a good fit for players who have muscle injuries or joint problems which limits their mobility.
The durability makes it a good choice for beginners, children, recreational players and players with an aggressive style of play. The durable nature of aluminum paddle allows it to be used for a long time without breaking.
It is also suitable for players who play for long periods out in the sun, as the aluminum core paddle is heat-resistant. Players who want to master shots that need a nice swing like dinks should also try out aluminum paddles. Also, aluminum paddle is a good option to play in an area with noise restrictions.
Lastly, players who prefer control and finesse over power should consider the lightweight aluminum pickleball paddles.
When is an Aluminum Pickleball Paddle Not a Good Choice?
If you are a professional pickleball player who likes to hit powerful shots, then aluminum paddle is not a good choice for you. We have seen already that aluminum core makes a pickleball paddle lightweight, which in turn reduces the power of the paddle. In this case, you should consider heavyweight paddles that deliver power shots.
Final Words
Aluminum core pickleball paddles have their own set of pros and cons. They are good because of their lightweight nature, extra control and maneuverability, remarkable touch and durability. However, the light weight aluminum core off sets the advantages by considerably dropping the power of the paddle. If you are a beginner level pickleball player, an aluminum core paddle is a good option for you.