Pickleball Popularity Statistics and Demographics: Facts & INFOGRAPHIC
It's no secret that Pickleball is USA's fastest-growing sport. But how fast is it exactly growing? What are the pickleball demographics? And what's the number of pickleball players?
In this post, we'll answer all such questions and will share pickleball popularity statistics and demographics. Best of all, we've visualized the data in the form of an infographic, which makes the confusing data easier to understand.
So, let's begin with the infographic.
Note: This post was last updated on 17th March, 2023. We'll keep adding updated statistics every few months.
Table of Contents
Pickleball Infographic
Here's the infographic on pickleball's popularity and statistics.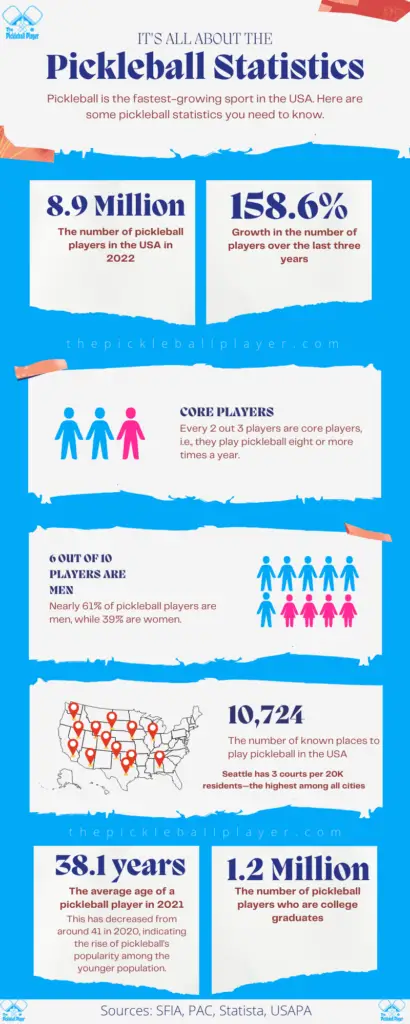 To give a rundown of a few statistics mentioned in the infographic, Pickleball has 8.9 million players in the USA and a growth rate of 158.6% for the last three-year period (2020-22). Understandably, it has been the fastest-growing sport in the US for the last three years (2020, 2021, and 2022).
In 2022 alone, the number of pickleball players grew by an unbelievable 85.7%. Six out of ten players are men, and every 2 out of 3 players play pickleball more than eight times a year.
Pickleball Popularity Statistics
Here are some of the statistics which show pickleball's ever-rising popularity.
Pickleball has 8.9 million players in the United States of America as of early 2023.
The number of pickleball players increased by 85.7% in 2022.
The growth rate of the number of pickleball players for the three-year period is 158.6% (2020-22).
The number of players playing pickleball has nearly doubled in the seven years from 2014 to 21.
Every two out of three players are core players, which means that they play pickleball more than eight times a year. This shows how addictive pickleball is!
Pickleball Demographics
The average age of pickleball players in 2021 is 38.1 years, down from 41 years in 2020. This shows that pickleball is gaining traction among the youth.
The average age of core players is 47.5 years and of casual players is 33.6 years.
33% of the core players are over 65 years of age.
27.8% of players are in the age bracket 18-34, which is the highest among all the age groups. But this age group also has the most number of casual players (33.9% of the total).
The south-Atlantic region is the home to most pickleball players (around 1 million). However, the West North Central Region has shown the highest growth rate (30%) in 2022.
Around 1.2 million pickleball players are college graduates.
Year-By-Year Growth Rate of US Pickleball Players
The compound annual growth rate of the number of pickleball players in the US for the last four years (2019-2022) has been almost 28.33%. The table below shows how the pickleball popularity statistics.
| S.No. | Year | Growth Rate (%) |
| --- | --- | --- |
| 1 | 2019 | 4.8% |
| 2 | 2020 | 21.4% |
| 3 | 2021 | 14.8% |
| 4 | 2022 | 85.7% |
Source: SFIA
Growth of Pickleball VS Tennis
Given the similarity between the two sports, pickleball's growth is often compared to that of tennis. Here's a comparison of the growth of pickleball and tennis.
In the last three years (2020-22), tennis saw a growth of 33%, while pickleball growth was 158.6% during the same period. It's pertinent to mention that the growth of tennis over the last three years has been higher than the previous years.
Comparing the number of pickleball and tennis players, tennis has nearly 23.6 million players in the USA, while pickleball is played by around 8.9 million Americans.
There are around 270,000 tennis courts in the USA, compared to over 44,094 pickleball courts. But the good thing is, you can play pickleball on a tennis court.
These figures show that though tennis is more popular in the USA than pickleball, pickleball is growing more rapidly. Therefore, it's quite possible that pickleball might overtake tennis, but it would take a few years.
Pickleball Courts and Location Facts
There are 10,724 known places to play pickleball in the USA as of early 2023, showing an increase of nearly 17% compared to last year. This means that there are four new pickleball facilities opening every day!
The number of pickleball courts reached 44,094 in 2022, showing a year-on-year growth of 15.6%.
Seattle has 3 courts for every 20,000 residents—the highest among all cities— followed by Des Moines (2.9) and Columbus (2.7). The number of known places to play pickleball in Seattle is 49.
California has the highest number of places to play pickleball, i.e. 794, followed by Florida (770).
Naples, Florida is called the Capital of Pickleball.
Pickleball is the official sport of Washington state. Gov. Jay Inslee signed the bill on 28th March 2022.
USA Pickleball Association (USAPA) Membership and Tournament Statistics
Here are a few statistics about USAPA.
Currently, there are around 68,697 members of the USA pickleball association, a 29.4% increase from 2021.
1,973 USAPA ambassadors are currently promoting this addictive game at every level.
In 2022, 237 official pickleball tournaments (sanctioned by USAPA) were held, an annual increase of almost 55%.
Currently, there are 212 pickleball referees certified by USAPA along with 478 Level 1 and Level II referees.
Professional Pickleball Registry, the training partner of USAPA, held 202 workshops with almost 2,000 participants in 2022.
USAPA awarded 138 grants (including community and youth) in 2022.
The following of USAPA official social channels grew by over 50% in 2022.
Pickleball Market Statistics
Business Research Insights estimated the pickleball paddle market size to be $152.8 million in 2021. They expect it to grow by 7.7% yearly, reaching $256.1 million by 2028.
The USA had a 74% global market share in 2018, followed by Canada (5.4%).
According to Fact.MR, the pickleball equipment market was worth $65 billion in 2022. The report predicts a CAGR of 9%, taking the market size to $155 billion in 2033. In the USA, an 8% growth rate is expected, while Canada is likely to see a 7% CAGR.
The Bottom Line
So these were some pickleball popularity statistics, growth rates, and demographics. Though there's no doubt that it has exploded in popularity over the few years, it still has a long way to go to compete with other sports like tennis.
One of the positive signs from these statistics is that pickleball is not just the game of seniors, as more young adults are getting into it. With pickleball being such an addictive game, it's surely going to get bigger and expand globally.
Nevertheless, with the current growth rate and projections, we can hope that pickleball will continue to become more popular. And contrary to what the naysayers say, pickleball isn't a fad.
Frequently Asked Questions (FAQs)
Here are the answers to some frequently asked questions.
What is the average age of a pickleball player?
The average age of a pickleball player is 38.1 years, as compared to 41 years in 2020. This shows pickleball is getting popular among the younger population too.
How many pickleball players are there in the U.S.?
There were 8.9 million pickleball players in the United States of America at the end of 2022. This is around 4.1 million more than the number of US-based pickleball players in 2021.
When did pickleball become popular?
According to the following graph, pickleball has been gaining traction since 2014, but it boomed during the pandemic. During the two years of 2020-21, it saw an astonishing growth of 39.3%. However, in 2022, it saw an even greater growth of 85.7%.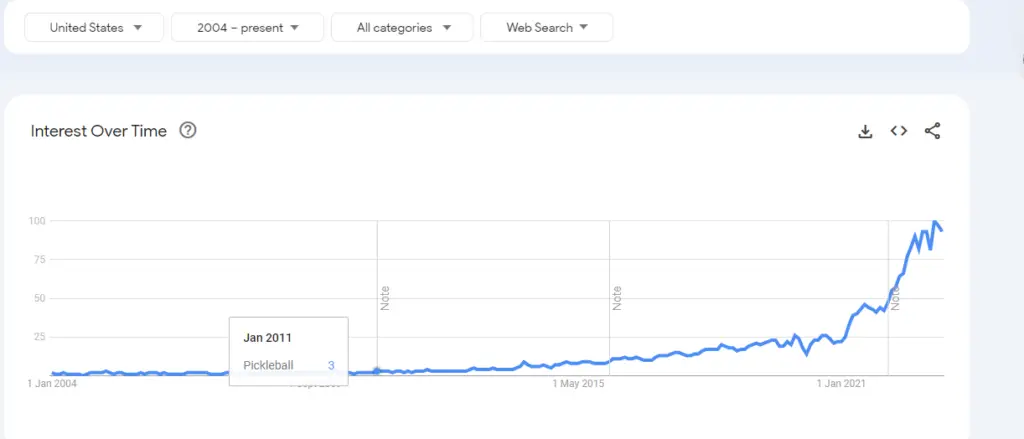 Sources: SFIA, PAC, USAPA, Business Research Insights, Fact.MR, and Statista